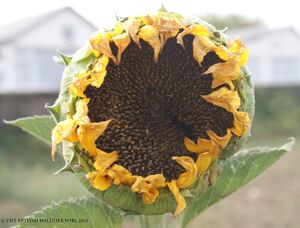 Sunflower (Helianthus annuus) is an annual plant native to the Americas that possess a large inflorescence (flowering head). The sunflower got its name from its huge fiery blooms, whose shape and image is often used to depict the sun. The sunflower has a rough, hairy stem, broad, coarsely toothed, rough leaves and circular heads of flowers. The heads consist of 1,000-2,000 individual flowers joined together by a receptacle base.
Sunflower seeds were taken to Europe in the 16th century where, along with sunflower oil, they became a widespread cooking ingredient. Sunflower leaves can be used as a cattle food, while the stems contain a fibre which may be used in paper production.
Description
[
]
With sunflower, what is usually called the flower is actually a flower head (also known as a composite flower) of numerous florets, (small flowers) crowded together. The outer petal-bearing florets are the sterile ray florets and can be yellow, red, orange, or other colors. The florets inside the circular head are called disc florets, which mature into seeds.
The florets within the sunflower's cluster are arranged in a spiral pattern. Typically each floret is oriented toward the next by approximately the golden angle, 137.5°, producing a pattern of interconnecting spirals where the number of left spirals and the number of right spirals are successive Fibonacci numbers. Typically, there are 34 spirals in one direction and 55 in the other; on a very large sunflower there could be 89 in one direction and 144 in the other. This pattern produces the most efficient packing of seeds within the flower head.
Sunflowers most commonly grow to heights between 1.5 and 3.5 m (5–12 ft).