The Common Ragworm (Hediste Diversicolor), can grow up to 13cm in length. It inhabits brackish waters across muddy shorelines and estuaries. It will build Y or U shaped burrows and only emerge to eat pieces of plants, seeds and algae. They have two teeth and can give a nasty bite to who ever disturbs them.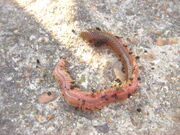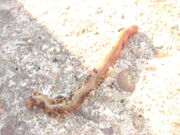 Community content is available under
CC-BY-SA
unless otherwise noted.